Dr Julian Jacobsen, Vet and Practice Owner
Graduated from Murdoch University in 1992 and worked for two years in the UK before travelling through Europe with his wife Dr Nyaree Jacobsen who is also a vet. They returned to Perth and entered into partnership at Victoria Park and Lathlain Vet Clinics in December 1999 with Dr Rick Fenny. Julian and Nyaree have three children (a girl and two boys) and 2 dogs, Ethal and Bessie. Julian has a special interest in surgery, and especially enjoys orthopaedic surgery. Outside of work he enjoys numerous hobbies, including building stuff (boat building, steel frame bicycle building, pizza oven, wooden structures) and competitive cycling.
Dr Katie Le Messurier, Vet
Katie always had a love of animals and knew from a young age that she wanted to be a vet. She studied at Murdoch University and graduated in 2009, beginning her career in general practice in South West WA. After several years down South, and locuming throughout WA, Katie joined the Vic Park team in 2016. She loves both consulting and surgery and have a particular interest in internal medicine. In 2012 Katie completed a year long course in feline medicine through Sydney University and in 2014 sat and obtained her membership to the Australian College in internal medicine.
When not at work, she can usually be found spending time with her dog Mabel, or competing with her horse.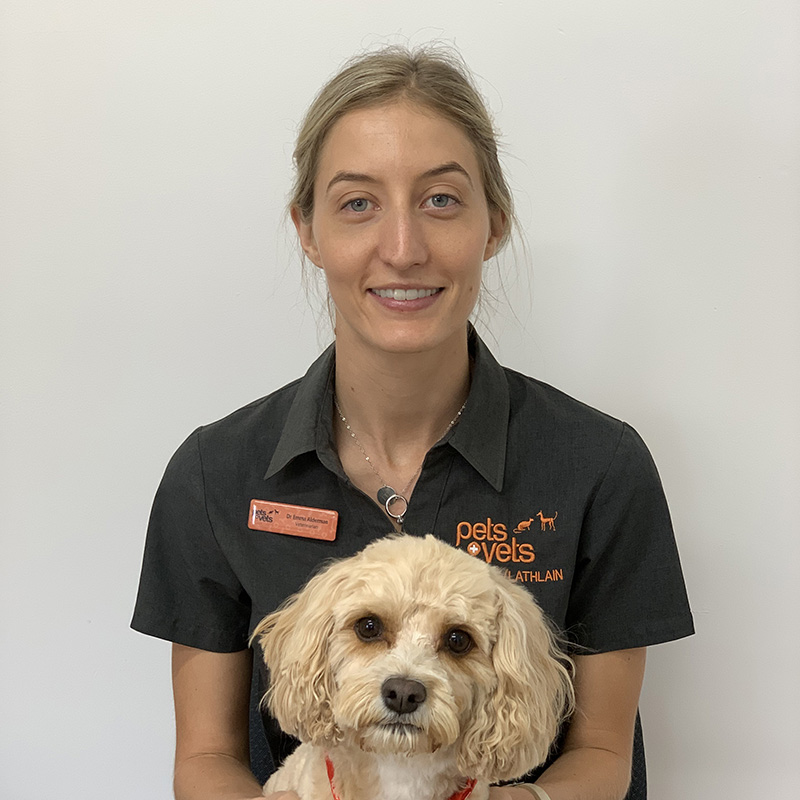 Dr Emma Alderman, Vet
Emma is one of the full time vets at Vic Park and has been lucky enough to be part of the team since 2019. She has always loved animals and been particularly captivated by dogs and cats.
Emma loves the variety that being a small animal veterinarian offers, but in particular she enjoys small animal medicine and dermatology.
When she isn't at work you will likely find Emma hanging out with her fiancé Anton, they love hitting the beach or going for walks around Perth's beautiful walking trails and lakes.
Dr Lucy Van der Weide, Vet
Lucy is one of the full-time veterinarians at the Victoria Park Veterinary Clinic, and has been part of the team since 2017. She is lucky enough to be accompanied to work daily by her beautiful border collie Mieke. Prior to working here, Lucy was the managing veterinarian at one of our sister clinics, the Newman Veterinary Hospital for 5 years, before relocating back to Perth with Mieke and her partner Mitch. Just recently Lucy rescued a kitten who she named Chip. Chip weighed only 500g and was found wandering the streets of East Victoria Park. Lucy's main veterinary interests are behavioural medicine (mental health and behaviour problems in pets) and soft-tissue surgery. Lucy has completed the post-graduate Veterinary Behavioural Medicine DE course and awarded membership of the Veterinary Behaviour Chapter of the ANZCVS. Lucy is also an accredited fear-free veterinarian. Outside of work she enjoys being active with Mieke, weight-training and supporting the Melbourne Demons.
Dr Meg Stevenson, Vet
Megan has been working for the Vic Park and Lathlain clinics since December 2006. At work she has an interest in small animal internal medicine with a particular interest in feline medicine and endocrine conditions.
Dr Erica Dudley, Vet
Erica graduated from The University of Melbourne in 2001 and enjoyed working in a mixed animal practice, in country Victoria, prior to moving to the UK to work as a small animal practitioner. Erica moved to Perth and joined the Vic Park Vet team in 2009. Erica enjoys all aspects of veterinary work and has a special interest in small animal medicine.
Her home is shared with a menagerie of pets and kids and notably the wonderful 'Harry High pants', a cat who was once dumped at the clinic as a stray.
Dr Katherine Cowton, Vet
Katherine graduated from Murdoch University in 2004 and went to work in Kalgoorlie for 4 years in small animal and equine practice. In 2007, she travelled around Australia and visited some amazing places! Since returning to Perth in 2009, she joined the Victoria Park & Lathlain Pets and Vets team. She joined our Mirrabooka team in 2016 and still works part time between the Victoria Park and Mirrabooka clinics.
Katherine has two children and an array of pets – including dogs, birds, rabbits, and fish.
Not that there is a lot of free time amongst all that, but her hobbies include cake making, camping, water skiing and doing renovations at home.
Monique, Head Vet Nurse
Monique graduated as a vet nurse in December 2013. She did work experience at Vic Park Vet Clinic while she was studying and ended up officially joining the team as a fully qualified nurse and stayed. She has a cavoodle, Nala, her favourite things to do are eat, sleep and exercise.
Jade, Vet Nurse
Jade is from the UK and has been in Australia for the last 9 years. She started her work experience with Victoria Park Veterinary Hospital in January 2014 while she was studying for her veterinary nursing career. Once she graduated, she became a permanent member of our team and has loved working here ever since. Jade previously worked full time as a Dog Groomer before deciding to do her nursing qualification.
She has a 6 year old Staffy called Zane who she rescued in 2014 and also has a 2 year old cheeky cat called Kitty, that she adopted from the clinic at 5 weeks old.
When she's not in clinic Jade enjoys the Beach, spending time with friends and travelling.
Faith, Vet Nurse
Faith has always had a passion for animals since a very young age. When she was 16 she decided to pursue this love for animals by starting work placement at the Albany Pets and Vets Clinic whilst studying nursing through Applied Vocational Training. In 2018 she moved up to Perth where Victoria Park Vets offered her a full time job. In June 2018 Faith qualified as a Veterinary nurse and loves her job and work family here, although misses her crazy Jack Russel; Penny who lives with her family in Albany.
Melissa, Vet Nurse
Melissa has been a vet nurse for 12 years and in that time she worked in London for 2 years and Victoria Park Vet Clinic for 7 ½ years. She has a Golden Retriever, Kiedis who occasionally is the chief meeter and greeter at reception. Melissa loves to spend time with her family, travel, shop and eat out.
Ella, Vet Nurse
Ella has been with the Vic Park and Lathlain Vet Clinics for 10 years since 2008! She has always been a big animal lover and her home is filled with 3 cats, 4 rabbits, Captain the crazy Irish Setter and Dorris the python, along with her husband and young daughter! She enjoys all aspects of veterinary nursing especially exotic animals!
Bec, Vet Nurse
Bec started her cert IV in veterinary nursing at the beginning of 2020 and have since fallen in love with vet nursing. She has a crazy little Frenchie called Kenny who loves to get in all sorts of trouble. You'll find Bec working between the Vic Park & Lathlain clinics and she's always be up for a furry cuddle.
Emily, Vet Nurse
Emily completed her Certificate IV in Veterinary Nursing in 2018. She has always wanted to pursue an occupation in animal care, so when she discovered what the role of a veterinary nurse was she just had to do it! Emily has grown up with pets in her family home aswell as living on the farm at a young age, she currently has her own cat named Toast.
Austin, Vet Nurse
Austin graduated with a Certificate IV in Veterinary Nursing in 2018. He has a keen interest in surgery although he loves offering a helping hand and advice on the reception desk.
Austin has two cats named Kapai and Koru at home and spends his free time is practicing and performing music as well as competing in cricket and field hockey.
Brooke, Vet Nurse
Brooke completed her Certificate in Vet Nursing in 2017 in Victoria and recently made the move to Perth.
She has a special interest in surgery and nutrition.
In her spare time, Brooke spends time with her Ridgeback Staffy Zara, frequenting cafes. Her adventurous nature takes her to Perth's best beaches and everywhere in between.
Mel, Vet Nurse
Mel started her dream job journey in 2019 by completing a Certificate II in Animal Studies, then going on to complete a Certificate IV in Veterinary Nursing.
Mel has always adored all animals and has her own crazy Kelpie called Bear. Mel enjoys all aspects of vet nursing including surgery and meeting new people!
Have a Question? We Can Help